Nasa's long-term goal of establishing a permanent, crewed base on the moon has been bolstered by the revelation there are large quantities of water locked in its soil.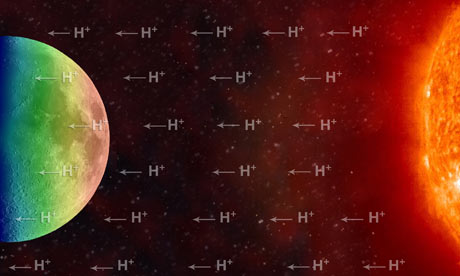 Nasa's plans to establish a human outpost on the moon have received a surprise boost following the discovery of
large amounts of water
on its surface.
Three spacecraft detected a thin sheen of water locked up in the first few millimetres of lunar soil that could be extracted and used to sustain astronauts on expeditions to our nearest celestial neighbour.
Instruments aboard the spacecraft suggest that a cubic metre of soil on the lunar surface could hold around a litre of water.
The discovery of water on the moon will bolster Nasa's long-term goal of establishing a permanently crewed outpost there. The space agency is developing a new generation of rockets and crew capsules capable of reaching the moon which are due to fly within five years of the space shuttle fleet being retired next year.
Next month, Nasa will intentionally crash a probe called LCROSS (Lunar Crater Observation Sensing Satellite Mission) into the Cabeus A crater near the lunar south pole, in the hope of finding signs of water in the shower of debris it produces.
Courtrsy:
Guardian
Thanks
PotterManiac


Last edited by Administrator on Fri Sep 25, 2009 5:23 am; edited 2 times in total (Reason for editing : Excessive Quoting....)